Camping at Blackwater Falls, WV
Story and Photos by Kirsti Bauer
We arrived at the park campground on Saturday around noon after a 3 hour drive. Our campsite, in the middle of a busy campground, was near the bathhouse but lined by trees so it felt a little more private.
We headed out for some hiking and to see Blackwater Falls, the feature of the park. The walk to the falls was easy and not nearly as far as we thought it would be, but also quite a bit more touristy than we expected. However, we were not disappointed.
After some pictures, and a short journey to see the falls from the far side, we decided to seek better hiking. We were beginning to fear that our escape from society would not be much of an escape. We traveled what we thought was one of the marked trails, but were very confused as the map indicated the trail should be on the opposite side from where we started walking, but we did not see the entrance of a trail on that side. When we returned, we realized that the trail we intended to hike was where it was indicated on the map, and we had actually spent the afternoon walking an old, unused road. I would not say it was a waste though, since we got to see some interesting sites, ate wild blueberries and it was very quiet and we were the only people on the path.
We stopped at camp for a break but decided to try another trail before evening fell, which indicated it would take us to a lookout at Pendleton Point. It was a quiet trail through a fern filled wood, shorter than we expected and passed by a one room nature center. Upon reaching the point, we were simply blown away. Pendleton Point looks over Blackwater Canyon, which is reported as being 525 feet deep and some 2000 feet across. We stayed until the sun touched the tops of the trees.
Noisy neighbors kept us up late, but the stars were fantastic and the fire was warm – after it stopped smoking. Up early, we hit the trail we found the day before. It was a good hike, but I am not sure how long it was. We passed a petting zoo and stable, and came out at Blackwater Lodge, to a lookout point on the opposite side of the canyon. From there we took a trail that passed a waterfall we had heard from Pendleton point. We had to hike off the trail in order to get the best view of this smaller waterfall – Elakala Falls, but we agreed that this fall was as good as Blackwater Falls, since it was more secluded. Sore legs and blistered feet from poorly fitted boots cut the hike short, and since we had to return that day anyway, we decided to head home early.


Explore the Location of this Story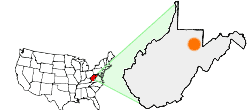 Visit Blackwater Falls State Park, WV



Read More Tall Tales

Camping at Ricketts Glen, PA
The Joys of a Full Backpack
That First Unforgettable Backpacking Trip

Do you have a Tall Tale to share?
Submit your story to the Fire Ring
When submitting stories please include your name and any contact information you would like displayed so we can give you credit. Stories should be original, all rights to submitted stories will remain with the author but by submitting your story you agree to give theFireRing.com royalty free permission to display it on the site.