May 12, 2007 - Grand Canyon
Grandview Trail to Horseshoe Mesa
Time of Hike: 5:45 AM
Distance Hiked: 8.0 Miles
Temp During Hike: Low 37.0 °F
High 82.0 °F on Rim 98.0 °F in Canyon
Elevation Change: 2700 Ft
I was finally there, standing at the rim of the Grand Canyon, ready to hike 4 miles in and 2,700 feet down (over half a mile) and then back out. This hike wouldn't take me halfway across or even halfway down into the Canyon. This place was huge; until you see it for yourself you can't imagine how big it really is and as I was soon to find out, it just gets bigger when you walk into it. As I stood in the early morning sun with my team members I took a few moments to stare into the open space before me and reflect on how I got there.
This has been a long journey, 3 months of training hikes, fundraising, and learning. At the beginning the Grand Canyon seemed like a far off place with trails so strenuous I couldn't afford to miss a chance to train my legs. The Canyon was the only thing at the beginning of my journey that I could focus on as a goal. It was a physical thing that I could easily picture in my head. As I continued training and fundraising my view changed and the Canyon became a secondary goal. I met many people who in one way or another had suffered because of cancer and I started to learn more about how my efforts were making the world a better place through research and more importantly how I was providing hope to thousands of individuals.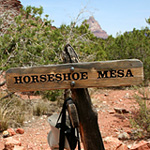 Sign at the beginning of
Horseshoe Mesa on the
Grandview Trail in the
Grand Canyon
My inspiration came from meeting our hike hero Gary and hearing his personal story and weekly inspirational messages. It also came from people who donated money and opened up to me about their personal experiences, but mostly it came from my team members and hike leader. I have never met a more caring group of people; thank you all for sharing your stories and this journey with me.
So there I was, standing at Grandview Point, the highest point on the South Rim of the Grand Canyon, ready to take my first step onto the Grandview Trail and join the 1% of visitors each year who actually venture below the rim. We got our first glimpse of the canyon just 14 hours earlier when our bus arrived at 3:30 pm in the visitor center parking lot. It was just a short walk to the rim. I had seen photos and videos, and heard stories from other people but I still wasn't prepared. I can't even begin to describe it, all I can say is I was so inspired by the view I took almost 100 photos trying to capture the essence of it.
As I began hiking the trail I found it was everything I had imagined, steep and rocky with a drop off on one side and a hard stone wall on the other. No mules travel on this trail anymore but many years ago they brought copper from the mine on Horseshoe Mesa up on this same route. The first mile in and 1000 feet down pine trees grew on every spot level enough for them. They provided nice shade which we would appreciate more on the way back out. Our first rest stop was at a place called the Saddle where the trail led across a narrow section between rock formations. From there we started the steepest portion of the trail down 20+ switchbacks occasionally pausing to let backpackers climbing out of the Canyon pass.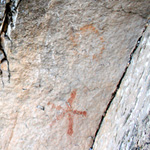 Petroglyph along the
Grandview Trail in the
Grand Canyon
Not long after leaving the Saddle we passed by an ancient petroglyph, it wasn't much but still impressive knowing how old it was. This one looked like either a star with a circle above it or possibly a human with a severed head floating above the body. Maybe it was a sign of danger for others following this trail.
At around 6000 feet elevation the thin pine forest we were walking in became high desert and our shade was gone. Luckily we still had some clouds keeping the weather cool and we were all prepared with wide brimmed hats and lots of sunscreen.
There wasn't much left of the mining camp that once stood on Horseshoe Mesa. We walked past the entrance to one of the old Copper mines and then arrived at the ruins of the mine headquarters, now not much more than a few stone walls. By this time it was into to high 90s and very sunny but we all felt good so we pushed on another mile to the left point of the Mesa where we had lunch and I set up my tripod to capture photos for a 180 degree panoramic shot.
I'm not going to lie; the hike back out was very difficult. I've climbed higher and walked farther but never in the desert or on such steep trails or at this altitude where oxygen getting to the body is only 80% of what it is at sea level. As soon as I got to the climbs I put my camera away in its pack and focused on breathing and putting one foot in front of the other. There is one thing about a good challenge that keeps you going and that is knowing that you are accomplishing something that very few people have and doing it with a team is a great feeling because you know they will all be waiting and cheering for you at the finish line.

About the Grand Canyon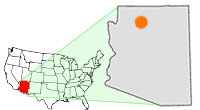 The Grand Canyon is located in the

High Desert and Pine Forests of

Northwestern Arizona

The Grand Canyon was first given federal protection in 1893 and was finally named a National Park in 1919.

The park encompasses 1,218,375 acres of land in northwestern Arizona on the Colorado Plateau. It averages 4000 feet deep but at its deepest point it reaches 6000 feet down into the earth and at its widest point is 15 miles across.

The canyon now receives 5 Million visitors a year. It has a long history of human inhabitance. Manmade structures have been found in its borders that date back 12,000 years.

As you may expect, with elevation changes as much as 6000 feet, the temperatures in the canyon vary greatly. In the early summer average temperatures at the canyon floor can be 30 degrees warmer then the average temperatures at the rim. You will experience about a 5.5°F temperature change with each 1,000 you descend into the canyon.

For more information visit:




Photos

This is a 180 degree photo, it will look distorted if it is viewed all at once. It is designed to view at full size and scroll from right to left just like if you were standing on the mesa turning your head.
(this photo will open in a new window, close it to return here)