Mar 10, 2007 - 6th Training Hike
Cunningham Falls/Catoctin Mountain
Time of Hike: 8:30 AM
Distance Hiked: 5.0 Miles
Temp During Hike: Low 37.4 °F High 53.6 °F
Elevation Change: 700 Ft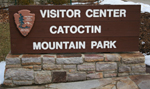 It's getting warmer. This hike actually started off above freezing but because of the elevation of the mountain and a snow storm earlier in the week we still had to hike through snow and ice. We got some good practice climbing up hills and we'll need more of it to be ready for the climb back out of the Grand Canyon on May 12th.
We started at the Catoctin Mountain visitor center and from there climbed 700 feet to the Hog Rock overlook. Along the way we got to know the area a little better as we walked past some historic charcoal making exhibits. In the past this mountain was clear-cut for farm land and the trees were used to make charcoal to fire the Catoctin Iron Furnace.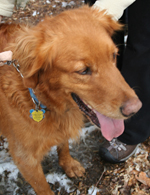 Jack the Dog
temporary mascot
After enjoying the view from hog rock for a while we descending back down the mountain to visit Cunningham Falls. To be honest, the falls were less than spectacular. These are cascading falls, which means that instead of a straight drop the water flows gradually over several smaller sections and with the snow it just looked like a snow covered hillside.
After leaving the falls we picked up a mascot for a little while. Jack the dog was walking by himself so we took him to find his owner who thanked us for returning him. The people (and dogs) you meet on the trail are always friendly.
This was a great hike and I know they will continue to get better as we venture farther into the wilderness to even more natural wonders.

About Cunningham Falls and Catoctin Mountain
This beautiful 10,000 acre forest is divided into 2 parks by Maryland Route 77. Catoctin Mountain Park (part of the national park service) to the north and Cunningham Falls State Park to the south. Both parks provide many camping and hiking opportunities with many scenic overlooks along the trails and Cunningham Falls contains the 78 foot cascading waterfall it is named after.
For more information visit:

Photos