Apr 28, 2007 - 13th Training Hike
Sugarloaf Mountain
Time of Hike: 9:00 AM
Distance Hiked: 5.0 Miles
Temp During Hike: Low 60.8 °F High 68.0 °F
Elevation Change: 900 Ft
We returned to Sugarloaf Mountain hoping to get some views this time instead of the dense fog from last time and we were not disappointed. It was a perfect day for hiking; temperatures in the 60s and partly cloudy with a breeze. We shortened the hike this time to only 5 miles; we didn't want to overdue it since we will be leaving for the Grand Canyon in just a couple weeks.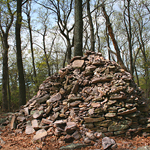 A large Rock Pile on one of
the minor peaks of
the Mountain

As expected, the views were fantastic. There are 3 overlooks along the trail we hiked. The first stop was White Rocks at around 800 feet in elevation. It offered a nice view of the farmlands below and the Appalachian Mountains in the distance. The second view was from the Bill Lambert Overlook located at 1000 feet in elevation just before the ascent to the top of the mountain. The view here was more North and this is where we stopped to eat lunch. After lunch we climbed another almost 300 feet to the top. The views from the top of the 1282 foot mountain were the most spectacular. The top is made up almost entirely of large rocks and cliffs with views to the West and North.
Everyone was in the same mood during the hike. Excited that we are almost done with our training and soon leaving for our big adventure in the Grand Canyon but at the same time surprised that the time has gone by so fast and a little sad that it all has to end. We have all gotten used to seeing each other for our weekend hikes, sharing ideas and keeping each other motivated. There is really something special about a group of people all dedicated to the same cause pushing to reach an important goal.

About Sugarloaf Mountain
Sugarloaf Mountain is a Registered Natural Landmark and is privately owned by Stronghold, Incorporated; a non-profit corporation that was organized in 1946. The mountain is open for the public's "enjoyment and education in an appreciation of natural beauty."
Sugarloaf came by its name because its shape reminded early hunters and pioneers of the sugar loaves common in those days. Throughout its history the mountain has seen millions of visitors, the earliest known map dates back to a Swiss explorer in 1707. Later Northern and Southern forces alternated in posting lookouts at its summit during the Civil War.
Geologically, it is known as a monadnock, a mountain that remains after the erosion of the surrounding land.
For more information visit:

Photos