Apr 14, 2007 - 11th Training Hike
Gathland State Park to Weverton Cliffs
Time of Hike: 9:00 AM
Distance Hiked: 12 Miles
Temp During Hike: Low 46.4 °F High 57.2 °F
Elevation Change: 500 Ft
This week was a new record for our longest group hike. We gathered at Gathland State Park on South Mountain for a 12 mile out and back hike on the Appalachian Trail. Our destination was Weverton Cliffs, overlooking the Potomac River. It was a cool but nice day and the trail was mostly level on the ridge of the mountain. Of course level is a relative term when you've been out hiking every weekend for 3 months.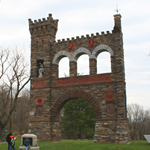 War Correspondents Memorial
at Gathland State Park

Even though the trees are starting to turn green in the valleys, mostly everything at the elevation we were hiking at was still brown. A few flowers were coming out and some new leaf buds and pine cones could be found if you looked close.
To help out with my training I carried my large backpack and loaded it up with extra weight including nearly 2 gallons of water and my backpacking stove and pan. At lunch we all had some hot tea at the cliffs and my pack was 8 lbs lighter for the 6 miles back to the car. For the first time in a while, my legs were actually a little sore after this hike; I guess the extra weight did its job.
Just a few more training hikes to go before we arrive at the Grand Canyon…

About Gathland State Park and the AT
The 140 Acre Gathland State Park was at one time the home of Civil War Journalist George Alfred Townsend. Many of the buildings from Townsend's home still stand along with a large stone monument dedicated to war correspondents. The park is a popular starting point for day hikes on the Maryland portion of the Appalachian Trail.
The Appalachian Trail, commonly known as simply the AT, is America's first National Scenic Trail. It stretches 2,175 miles through 14 states with end points in Maine and Georgia. It was conceived in 1921 and completed in 1937. Every year 1000s of people hike the trail, many of them attempting to hike the entire length.
For more information about the park & forest visit:
For more information about the Appalachian Trail visit:

Photos